Apartment Cicha Woda – SAUNA, FITNESS, WIFI, RECEPTION, PARKING PLACE, VIEW
Apartment Zakopane Cicha Woda – This beautiful apartment in a luxury apartment Butorowy RESIDENCE. The complex has its own Sauna and Fitness, which are available for guests. The apartment is located just 3.8 km from Krupówki, 1.5 km from the Statement Szymaszkowa and 6km from the entrance to Kościeliska. Very good public transport connections. Parking free of charge. It is designed for 1-4 people, WiFi is available throughout the hotel. Price starting from 120 zł per
day.
Facilities:
– Child Care (additional fee 15 PLN / h)
– Fully equipped kitchenette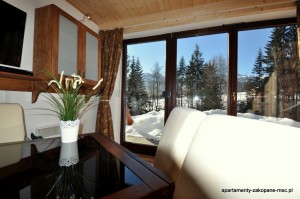 – Bathroom with shower and toilet
– LCD TV + satellite programs
– Wireless Internet Wi-Fi
– Bedroom for two people
– The seating area with bed – sofa for two people
APARTMENT ZAKOPANE CICHA WODA – RESERVATION
Apartment Zakopane Cicha Woda can be reserved by using following reservation form. There are two options to pay, by credit/debit card or through money transfer (also via paypal). If you have any questions please contact +48 515 857 606 or via email apartamentymsc@gmail.com.
APARTMENT ZAKOPANE CICHA WODA – ADDITIONAL GALLERY
APARTMENT ZAKOPANE CICHA WODA – ADDITIONAL INFORMATIONS
Apartment has unlimited access to Sauna compound, please note that appointment is required. It is also necessarily to contact us 2h before arrival. We require payment being completed before handing the keys for apartment. Parking is available at the site, there is also reception, it handles all concerns in regard to sauna or parking. With all other things contact us directly! We provide clean bed linen with towels. If the number of persons is less than 4, please leave clean towels and bed linen in number corresponding to smaller number of persons. In apartment you will find Karta Tatrzańska – a discount card. It is necessarily to leave that card for next quests, if not you can be charged by additional fee 30 zł. We require 500 zł of safe deposit in form of preauthorisation or via money transfer.